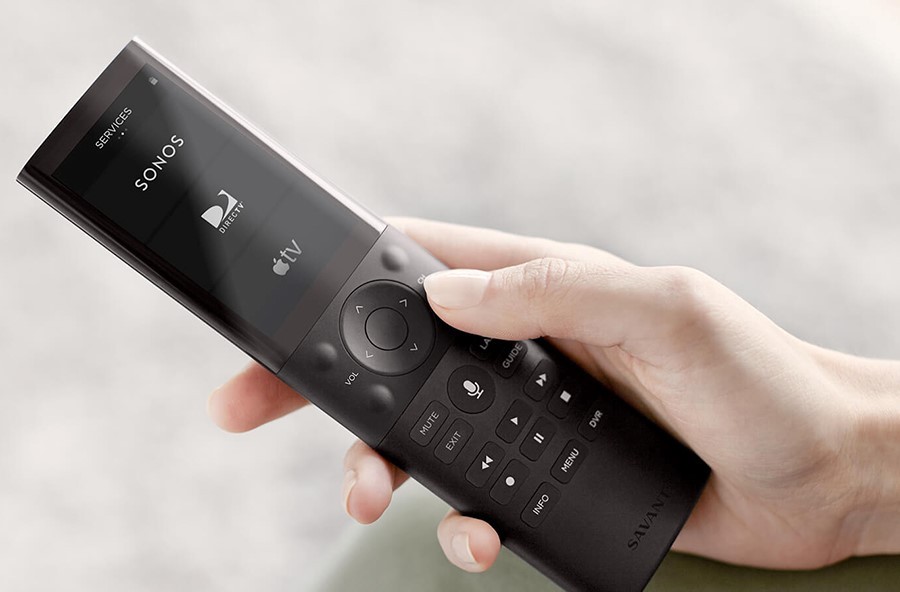 The very first universal remote debuted in 1985. While the technology was clunky and basic, the idea behind the original universal remote is still true today: consolidating control of your media devices makes using them easier. In modern media rooms, universal controls are a must-have item. With sound systems, media players, televisions, and more, having one remote to manage everything definitely makes life simpler. To learn about the best universal remote on the market today, read on.
A Design that Everyone Can Enjoy
Bigger isn't always better. The Savant Pro remote is designed to fit easily into your hand, with all the controls in easy reach. The top portion is a curved touchscreen that helps you navigate the options quickly. For those of us who prefer the traditional button feel, the remote has that option too.
One Remote for Everything
The Savant Pro remote has a huge range of supported devices. Everything from your Apple TV to your Sonos sound system to your Blu-ray player can all be controlled at the push of a button. Of course, Savant doesn't just do your typical media devices; it can also manage the lights, climate, motorized window treatments, and more!
Preset Scenes
Media rooms often have a lot of different uses, from watching movies to playing games with friends. The Savant Pro remote allows you to "set the scene" for each activity with the push of a button. These scenes are a collection of preprogrammed settings for the perfect lighting levels, temperature, music, and more. So when you want to watch a movie, just select the "Movie" scene. When you do, the lights will dim, the shades will lower to block out sunlight, and all your media equipment will turn on instantly.